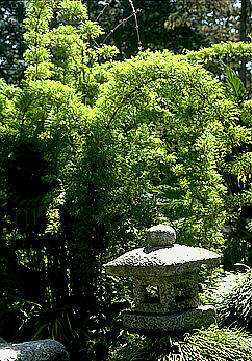 Chusquea in the Lotusland garden
Among the world's most beautiful bamboo. This picture, from Lotusland in nearby Montecito, shows one of the many specimen plants of Chusquea that are in Lotusland's Japanese Garden.

Chusquea coronalis is a somewhat tender (20 - 25 ° F) sub-tropical bamboo that is best planted in light shade (full sun along coast). The narrow dark culms have whorls of branches at the internodes which appear as crowns, giving this plant the specific ephitet coronalis (from Latin "corona" meaning crown). These whorls of branches allows the culms to catch in tree branches so the plant can literally climb higher through a canopy.

The natural habitat is from 2,000-6,000 feet in cloud forests, river valleys and slopes of Mexico, Costa Rica and Guatamala.. In the 1994 this bamboo flowered, producing enough seed to make a bamboo that was quite rare in cultivation into a plant that can now be found in most nurseries.