Home > Products > Trees > Tabebuia chrysotricha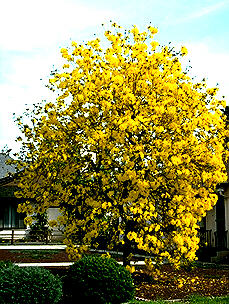 This spectacular yellow flowering deciduous Tabebuia comes from Brazil. It is a low branched brown-barked tree with a rounded head to 25 to 30 feet and stems and branches are covered with tawny fuzz. It presents a dazzling display of yellow 2-3 inch long flowers in late winter on bare branches that are shortly thereafter followed by the compound leaves, composed of 3 to 5 leaflets that are dark green and prominently veined above and roughed textured olive green below. Hardy to 24° F. Plant in full sun.

Like its pink cousin, Tabebuia impetiginosa, this plant was introduced into cultivation in Southern California in 1964 by the Los Angeles State and County Arboretum in Arcadia where several mature specimens are quite evident in late February.