Home > Products > Rose Page > Rosa 'Iceberg'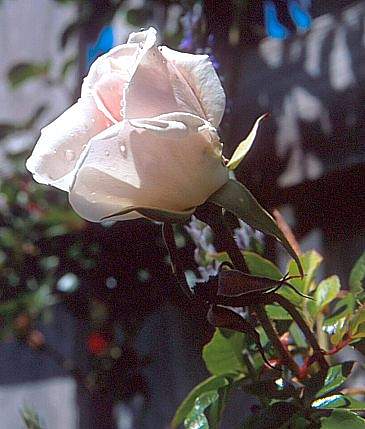 'Iceberg', also known as 'Fée des Neiges', is a beautiful and durable repeat rebloming floribunda that was bred by Kordes in Germany and is the result of a cross between a 'Robin Hood', a Pemberton bred hybrid musk (1927) and 'Virgo' a large flowered hybrid tea rose(1947). Its ever present double white flowers, often with a flush of pink in spring and fall, are lightly fragrant. The flowers are medium sized in large clusters and open wide then fall cleanly from the plant. The plant itself is makes a strong trouble free shrub that is bushy and well branched with smooth slender stems and glossy rich green foliage. 'Iceberg' can build up to 6-7 feet tall or be lightly pruned to maintain a 4 foot height. This rose has won many awards including the National Rose Society Gold Medal in 1958, the Baden-Baden Gold Medal in 1958, the ADR Anerkannte Deutsche Rose (Germany) in 1960, the World's Favorite Rose in 1983 and the Royal Horticulture Society Award of Garden Merit in 1993. Zones 4-9.
David Austin in his book Shrub Roses and Climbing Roses says of this rose: "This is probably the best rose to come out of the Floribunda class."