Home > Products > Clivia Page > Clivia Symposium > Glenne Couvillion
Glenne has been collecting all sorts of plants for the past 30 years. His garden is a beautiful site with palms orchids and, of course, Clivia, all nessled under Oak trees in a garden that seems much bigger than the 2 arces it occupies. The home, a New Orleans Creole Cottage is strategically placed near the street to maximize the garden space to the rear. This home was just spared during the Jan. 9, 2018 Montecito mudslide and much of his garden was lost.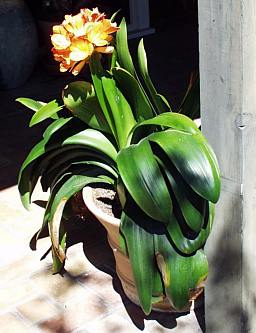 This beautiful potted speciman of a wide leafed Clivia graces the back deck with leaves measuring over 6 inches.
Scattered between other plantings there are loads of different yellow Clivia and some really nice dark red Clivia