Home > Products > Succulent Page > Ruth Bancroft Garden Agave Summit & Agave "Cornelius"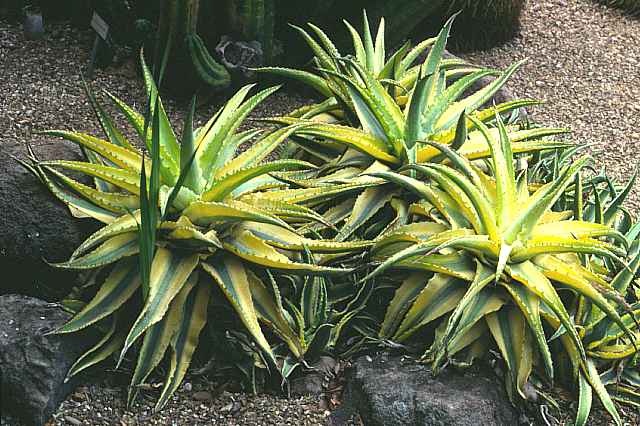 Continuing on with the Ruth Bancroft Garden Agave Summit - with a bunch of agave enthusiasts all together in one location what else would we talk about but agave's of course - someone should have been serving tequila but it was a bit early. One question posed to the group was the valid name for the beautiful dwarf variegated agave pictured above. We have been calling it Agave americana 'Marginata Aurea Monstrosa' as this is what the plant has been labeled as at the Huntington Botanic Garden, although without reference to where the name came from in their accession records. This small Agave forms a very attractive rosette to about 18 inches tall. The short strongly variegated yellow and green leaves have undulating margins. Plants sucker to form small colonies. Plant in full sun in a well drained soil and water occasionally to very little. This slow growing plant has been circulating around form many years but has never been readily available and has gone by a number of names such as Agave 'Monstrous Dwarf', A. americana aureo-marginata 'Monstrosa' and A. 'Hummel's Dwarf Cornelius' or sometimes just 'Cornelius'. Some question whether it is even a cultivar of Agave americana but to our knowledge the plant had never bloomed, so this had not been verified. During the Agave Summit Brian Kemble dropped a bombshell on the group when he pulled out the plant pictured below and told a story about their Agave "Cornelius" noting that after it flowered a "sport" popped up. Showing us the plant pictured below that looks nothing like an Agave americana, Brian asked the group what we thought it was - nobody ventured a guess. Sure would have like to seen the Agave americana 'Marginata Aurea Monstrosa' (AKA 'Cornelius') when it bloomed. What ever we end up calling this plant, it sure is a nice smaller agave. In 2005 we should finally have sufficeint quantities to begin sellin it - see our listing as Agave americana 'Marginata Aurea Monstrosa'.
More Garden Images at the Ruth Bancroft Garden.